Haunted House in Chester County, SC
Sitting on 75 acres of land, JC's Frightmare brings to life all of your deepest fears, subjecting you to sheer terror for 35 spine tingling minutes! Choose to brave our 13 Grueling Rooms, each designed to test your courage—or, test your luck in the Unforgiving Maze, where a wrong turn could leave you screaming for your life! Be warned that this is an experience like no other.
Think you're brave? We challenge you to put that claim to the test and see if you can make it through JC's Frightmare.
Sitting on a massive 75 acres of land, this frightmare will leave you speechless!
Contain your fear for 35 minutes as you navigate the 13 Grueling Rooms or our Unforgiving Maze!
Experience the sheer terror as 20+ actors bring the horror to life right before your eyes like no animatronic can!
We're the most intense Halloween attraction in South Carolina, guaranteed to leave you shocked and exhilarated!
Our haunted house and maze aren't for the faint of heart. Bring a friend and enter if your dare—good luck making it through with your wits and nerve intact!
South Carolina's Most Intense Halloween Attraction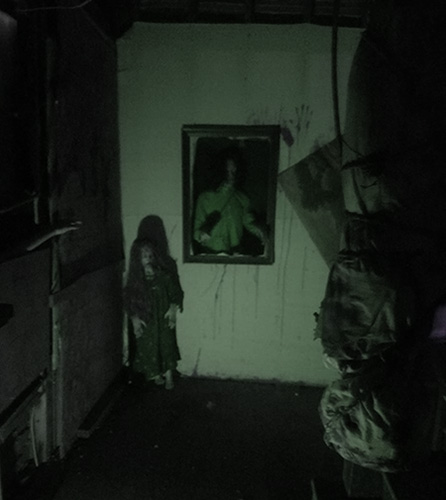 Think you're brave? Think again. JC's Frightmare will leave you wishing for the exit as you endure the sheer terror of 20 minutes in our nerve-racking haunted house or unsettling maze! We're not just another haunted house in Chester County, SC: we're a panic-inducing, scream-fueled experience that puts even the most hardened horror fans to the test. We'll do more than just give you a jump scare or an unsettling feeling—we'll make your skin crawl, palms sweat and anxiety rise, to the point where you just can't take it anymore. You'll run and scream with each new horror and we promise, by the end, you'll be begging to get out!
Choose between the 13 Grueling Rooms—our haunted house tour in Chester County, SC—or the Unforgiving Maze, where each new turn will bring a new rush of adrenaline. Each room of our haunted house is themed with a shocking premise that's sure to shake you to your core. From killer clowns and an alien autopsy to a psych ward and mirror maze, we'll put your courage to the test as you try to navigate through to the next scene of terror. Outside, you'll have to navigate the maze in a mist, with only a few flickering lights to guide the way. Beware chainsaw-wielding psychos and other creatures roaming the maze! If you're lucky, you'll find the end before panic and paranoia truly set in.
Experience Sheer Terror
Ready to put your nerves to the test and push your sanity to the limit? Ticket Purchases are available upon arrival. See if you can make it through to the end of the most electrifying Haunted house in Chester County, SC.